See on Scoop.it – Small business marketing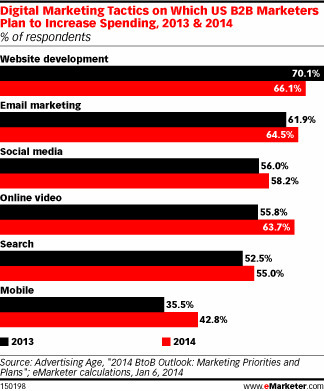 2014 will be the year of content marketing in the business-to-business (B2B) space. Three-quarters of B2Bs intend to up spending on content, ramping up investments in tactics such as email marketing, social media and online video.
___________________________________
► Receive a FREE daily summary of The Marketing Technology Alert directly to your inbox. To subscribe, please go to http://ineomarketing.com/About_The_MAR_Sub.html ; (your privacy is protected).
Sahail Ashraf's insight:
I was with someone the other day and they said that their clients were finding that email marketing is really taking off. In fact, this client felt that email marketing was becoming the 'new' direct marketing.
Make of this what you will, but with B2B marketing now pushing email marketing in 2014 (as well as all content marketing), as this article from The Marketing Technology Alert shows, it seems there has never been a better time to invest in this incredibly low cost marketing method.
The reason why people are seeing email marketing as something that is reminiscent of the glory days of direct marketing is that email marketers are being more sensible and intelligent with the headlines, and the content, of the emails they send out.
With Google (literally) pushing spam out of the way, people have to work harder to get their emails opened. This hard work is paying off, with some truly incredibly useful emails out there, that offer real value to the customers.
The other side of the coin is clear. If you try and just blanket people with emails that sell your product, you'll be pushed out of the equation by Google. So take the time and the effort to write excellent emails that beg to be opened.
If well over half of the world's marketing budgets are now being spent on email marketing, that's a clear sign that the game is changing, and that this is something every small business should invest in.
See on www.emarketer.com