See on Scoop.it – content marketing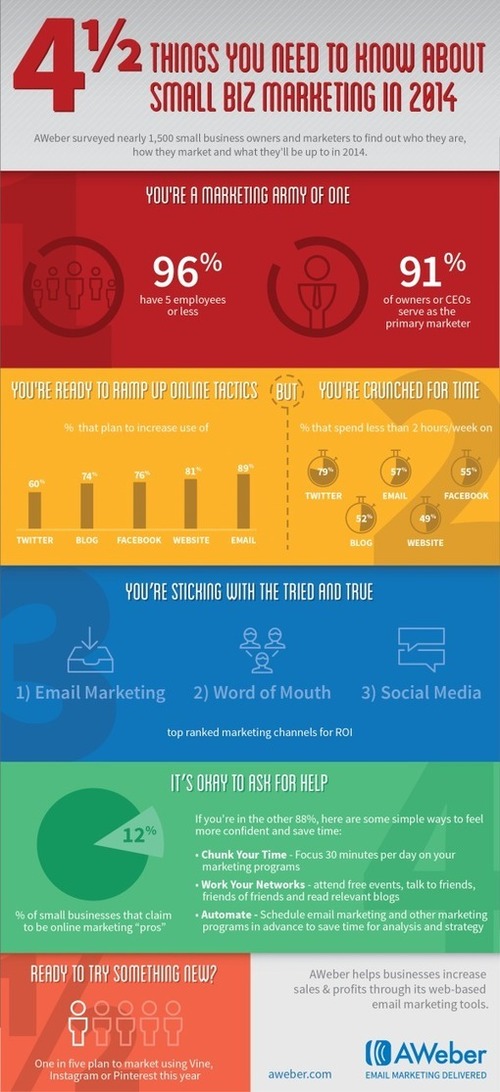 Infographic: Do-It-Yourself Tactics For Small Business Marketing
Marketing Land
Run a small business? Chances are, you're not just the boss. You're also the chief marketing officer. It's tough being both the CEO and CMO, but you're not alone.
Sahail Ashraf's insight:
I like the 'It's okay to ask for help' section here in this info graphic from Marketing Land. It offers three points that I think resonate with anyone who runs their own business.
Perhaps the best take away is the idea that you can 'segment' your individual marketing activities so that they don't take over your day.
This is an idea that we can lose sight of as we are caught up in the hard work of managing our businesses so that they are both profitable and growing.
Chunking our time takes discipline in itself. We are so hooked on using computers to keep in touch with social networks etc. that we are blind to the fact that we actually have the power to organise our time and our activities.
This is especially true for the solo entrepreneur, who has the ability to completely map out his or her day. With a little self-discipline, you can easily create 30-minute windows where you focus on marketing and marketing alone.
Networking makes for great marketing
Networking works too. I recently had to turn down the chance to attend a networking event simply because I have so much going on. If you're busy some things have to give.
But rather than make that into a simple 'no' I spoke to the lady who was organising the event and spent a while on the phone talking through what I was doing with Talented Content, and how I was disappointed that I couldn't find the time to attend.
I was honest, and genuine about my wish to attend at some point. Networking is important to me and I made this clear to this person on the phone, who wasn't trying to sell the event, but was instead just trying to get me to come along.
Connection is everything. You could spend months getting to know someone before they finally ask for your help.
I am dying to get out there and do some serious networking soon. I've got a clear idea of the position my company is in and the benefits it can bring to others, but most importantly I just want to talk to people.
So I finished the conversation by saying that I would definitely attend at some point in the future, and the lady said we could stay in contact. She knows a lot of people who need good content marketing, so it kind of works out well in the long run.
Networking is never free, because it takes up time. But it is time well spent in the long term. Like the infographic says, it's okay to ask for help.
Automating your marketing efforts for a big win
And the automation thing is important too. The one mistake you can make here is automating the soul out of your company. If you automate tweets or updates, be sure to add your own spin on stuff, or at least automate stuff you genuinely relate to.
Remember that it is your brand you are representing, and it has to stay professional. Part of that professionalism is being relevant and true to what you are saying overall. In other words, if you say you only talk about insurance, because that is what you sell, don't auto-tweet about Justin Bieber just because you think it will get links.
A good infographic then. Take a look at it, and soak up the info. I've taken one good idea from this about the 30-minute window for marketing.
What can you take from it?
See on marketingland.com