See on Scoop.it – content marketing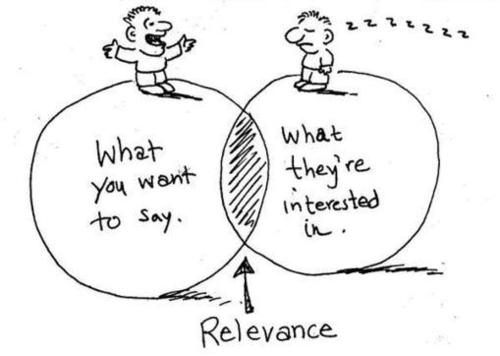 Content marketing is about RELEVANCE @SmartInsights #content #marketing and business is about RESULT #R2 http://t.co/RZXfnF0hYb
Sahail Ashraf's insight:
We have to meet our customers in that middle ground. The space where they're comfortable talking about money, for example.
A lot of that is about honesty. Be clear on your product and what it can do for your customers. Be clear on what you expect as a company.
Be honest when it comes to your story. This builds trust and opens the door.
Then talk about what they want to hear. They owe you nothing, by the way, but you may have something that will help them.
I am finding that the most common phrase I use at the moment when I am talking to clients is: 'Let's see if we can help'.
You can't help everyone, and not all your content is going to be relevant to everyone (or even more than a handful).
Practice the art of conversation. Get to know the person in front of you, even if they are represented by words in an email.
Be relevant to your customer and they will listen. Be relevant to your customer in your content and they will listen and engage.
It's never about the sale. It's about the opportunity to help people. It's much more rewarding to get to know someone and then find out you can help him or her.
So with your content marketing, start with what you want to say, and then step out into the world, and into the shoes of your prospect. Meet in the middle and that middle will strengthen and grow into a common ground.
And that's where real growth occurs, for both of you.
See on twitter.com